Marine Window Tinting in and around Broward, Coral Springs, Fort Lauderdale, Pembroke Pines, Pompano Beach, Sunrise, and Weston, FL
A cooler, more comfortable boating experience
Marine Window Tinting by West Broward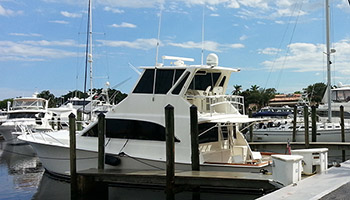 Whether you're dockside or far from shore, professional boat window tinting from West Broward Window Tinting delivers benefits that every boat owner and passenger will appreciate.
Water reflects sunlight, magnifying the glare and increasing visual discomfort. The right window tinting not only increases visibility but also deflects harmful UV rays and reduces solar heating inside protected areas, not to mention the additional privacy it affords you and your passengers. Protect yourself, your passengers and your boat with Marine Window Tinting from the professionals at West Broward Window Tinting and enjoy all these benefits:
Increased Comfort
We know that window tinting decreases solar heating in automobiles. Imagine the difference it can make on your boat. With no protection, no covering or shadowed areas to block the sun's rays, you feel the heat quicker and constantly while boating. The protection provided by marine window tinting reduces the effects of solar heat, helping you save air conditioning use while keeping things a whole lot cooler.
Protecting your Investment
From on-board electronics to rubber seals, expensive wood trim to leather interiors, plush carpeting and furnishings, your boat represents a major investment. Providing the best protection available includes marine window tinting that blocks harmful UV radiation by up to 99.9%. Avoid color fading and drying and cracking of cabin interiors.
Improve visibility
Squinting, headaches and eye fatigue can ruin a perfectly good day on a boat. Quality window tinting from West Broward Window Tinting provides the protection you and your passengers deserve and lets you see other boats and obstacles without battling the intense glare of the sun. Stay out longer, increase your enjoyment and your safety when you block the sun's harmful UV rays with quality marine window tinting.
Increased Safety
By nature, window tinting affords additional protection when glass shatters, holding glass in place and reducing the tiny pieces of sharp glass normally associated with window breakage.
Privacy
You don't have to be seen when you don't want to. The right marine window tinting from West Broward Window Tinting provides an attractive barrier that guards your privacy while maintaining your visibility.
CLICK HERE TO CONTACT WEST BROWARD WINDOW TINTING TODAY