Automotive Window Tinting in and around Broward, Coral Springs, Fort Lauderdale, Pembroke Pines, Pompano Beach, Sunrise, and Weston, FL
Making every mile more enjoyable
Perfection in Automotive Window Tinting by West Broward
For some, an automobile is simply a motorized form of transportation: a time-efficient way to get from point A to point B. For others, it becomes a form of self-expression, a sleek, stylish extension of your personality and, in many cases, a large financial investment. Whether you drive a simple vehicle or an exotic automobile, automotive window tinting from West Broward Window Tinting increases your comfort and safety, protects your vehicle's interior and provides a calming private environment wherever you drive.
Comfort
When you're stuck in traffic in the summer sun you can feel like an ant under a magnifying glass. Solar heat elevates the temperature inside your vehicle, making every commute uncomfortable. The problem increases when you have to park in an outdoor lot for any period of time. Your ride becomes an oven. When the outside temperature is 90° the inside of your car reaches 109° in only 10 minutes. In as little as an hour, the temperature rises to 133° Fahrenheit, or 43° greater than the outside temperature. West Broward Window Tinting utilizes the best quality window tinting to greatly reduce the effects of solar heat, keeping you and your car's interior comfortable.
Safety
Do you ever find yourself squinting just to see if a traffic light has changed? It's a common problem and it can become more than a nuisance. Glare from reflective surfaces can cause temporary 'flares', making it virtually impossible to see clearly. It's an especially serious problem for individuals with light sensitive eyes and those who suffer with migraine headaches.
West Broward Window Tinting provides a safety barrier, blocking up to 99.9% of the harmful UV-A and UV-B rays during the day…and other vehicle's headlights once the sun goes down. Night and day, you'll see more clearly and travel more safely.
Privacy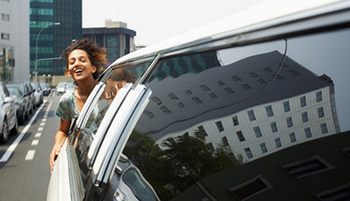 Listening to music, talking on your hands-free cell phone or simply meditating on your to-do list when driving are just a few of the things that make it enjoyable. Having your privacy invaded isn't on the list of fun things. You count on a degree of seclusion once you enter your vehicle. When others refuse to respect your space, West Broward Window Tinting provides the optimum solution. See clearly without being seen and enjoy solitude in a sea of other drivers with quality window tinting by West Broward Window Tinting.
Interior Protection
Fine leather and suede seats, vinyl dashboards, plush cloth interiors: all are victims of harmful UV rays and require protection to avoid cracking and fading. The high-quality films used by the professionals of West Broward Window Tinting block those harmful UV rays and help lower the overall temperature inside your vehicle, providing additional protection against the effects of severe summer temperatures.
A History of Excellence
The professional team at West Broward Window Tinting has over 20 years of experience in the application of premium automotive window tinting. Our highly trained technicians have a special passion for high-end vehicles and deliver unsurpassed quality and meticulous execution in tinting both foreign and domestic makes and models. From Mercedes to Lexus, BMW to Porsche, we deliver exceptional quality without fail. Equally, exotic automobiles are no trouble for our seasoned pros. With our Mobile Service, we bring the products, tools and talent necessary to deliver stunning results in automotive window tinting to your location.